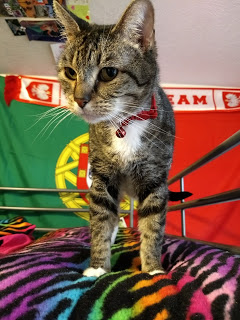 I posted this on Instagram/Facebook/Twitter/Tumblr the other day, and one of my friends immediately caught the Poland scarf in the background.
My daughter was given the scarf as a gift in recognition of her Polish heritage by the Polish team of skaters at the Oberstdorf  Figure Skating Competition in 2017. She attended with her mother, who competed.
Notice that wild striped pillow? My daughter won that at a gymnastics competition.
Powered by WPeMatico