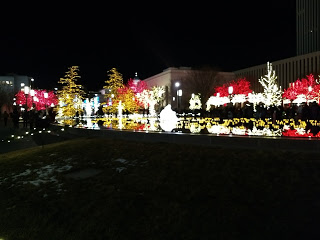 The LDS Temple in Salt Lake City [INFO HERE] is a staple of the holiday season. From around Thanksgiving to the middle of January, the festive Christmas lights adorn every tree, most of the shrubbery, and even a perennial or two.
If you are in the area, you absolutely have to brave the winter chill to visit and take part in several of the visitor center exhibits, most guided by missionaries from around the world. We met with several and particularly enjoyed chatting with young adult volunteers from Peru and Japan.
Be sure to head to the plaza to the east of the temple, where you'll see hundreds of floating paper tents each lit by flickering candle lights. Though they are now LED, I remember a time when they were live. The good old days …
Another treat is the collection of "life sized" nativities representative of several cultures from around the world. The Asian and South American ones are always my own favorites. Recognize a theme here? My own trips to Japan and South America are among my fondest memories.
Parking isn't the best, but a local tip is to take advantage of the free couple hours parking under the City Creek mall, just across the street south of the Temple Square. At the mall I like Blue Lemon and Johnny Rockets, but there is a food court as well.
---
Powered by WPeMatico