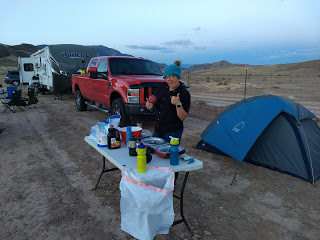 We camped the night before at the Glenwood Hills OHV Area near Richfield Utah. It was windy, rainy, sandy, with lightning. We sat around in chairs telling stories until after midnight while the kids played in the trailer.
In the morning Coach Angie started the pancake action and we invited over riders, parents, and coaches from all the early rising team members also out to pre-ride.
I didn't get in much riding, with my majorly bruised ribs and ripped up knee. I got in only one lap. The kids had a blast though, some getting in six or more laps.
Super fast fun course, fairly flat, a little sandy, but overall a great course. Thanks to the Sevier County riders who put it in earlier this year.
Jason, from the Utah League was there to finish up marking the course, then snagged a few pancakes for himself. Looks better than Denny's the way he prepared them.
Powered by WPeMatico